Analysis of Trends in VAERS Data
September 2009: HPV and Flu #2
The government has just posted data up to the end of September, 2009. This is about a week earlier than usual, and new data is now arriving weekly instead of monthly, so they are definitely trying to get the information out to the rest of us.
Flu
The month adds 2409 reports to the database and nearly half of them (1137) are associated with Flu! Once again, there are no reports that mention H1N1 specifically, but there is one report that mentions H1N1 in the writeup.
Last month I showed a chart of Flu reports by month over the last 20 years. I thought that the August numbers were higher than usual and indicated a bad trend. This month, the trend continues to be bad, as the updated graph shows. September (the red line) has never been this high and is as large as a typical October (shown in blue). So either Flu reports are arriving early, or it will be the worst year for Flu reports ever.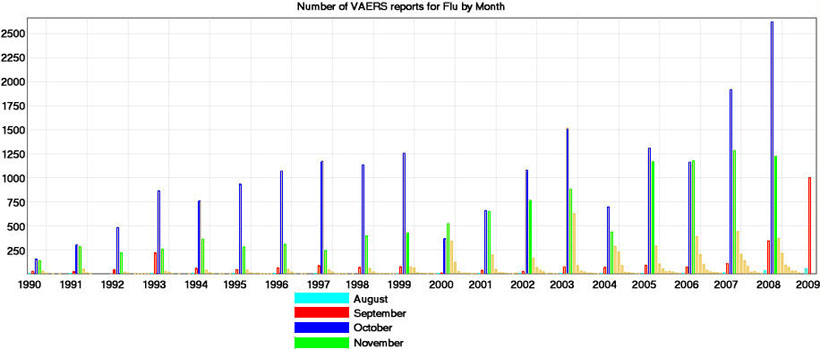 HPV (Gardasil)
This month, 262 of the 2436 new reports were due to HPV (11%) bringing the total number of HPV-related reports to 16,703. One new death was reported this month, but it happened 53 days after the vaccination, so it may not be related to HPV.

Copyright © 2022 National Vaccine Information Center. All rights reserved.
21525 Ridgetop Circle, Suite 100, Sterling, VA 20166